COVID-19: How Planbox Customers Are Fighting Back
For Planbox customers, collaborative problem-solving with networks of local and global communities is the go-to solution to overcome the unprecedented challenges brought on by the coronavirus outbreak.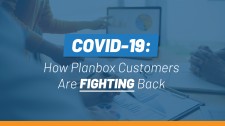 MONTREAL, March 20, 2020 (Newswire.com) - ​​​​Planbox, a pioneering cloud-based, AI-powered, agile innovation management platform, today launched an ongoing series of COVID-19 Business Threat Challenge Starters to support the company's clients in their ideation initiatives in areas of advanced research, rapid prototyping and commercialization by virtually engaging their innovation ecosystems amid the coronavirus outbreak.
Since the start of the pandemic, organizations have been thrust into a vicious circle of uncertainty where shutdown orders, remote work, employee absences, and salary/budget cuts are dramatically increasing, which, in turn, is resulting in dwindled engagement and delayed decision-making on the part of employees, customers, partners and suppliers. Looking to overcome these setbacks, Planbox customers have quickly turned to collaborative problem-solving supported by the platform's open innovation capabilities.
Consisting of Challenge Focus Topics updated in real-time to reflect current events and their customers' most pressing priorities, concerns and requirements, Planbox's COVID-19 Business Threat Challenge Starters are helping clients take the fight against COVID-19 online. At a time when social distancing is the norm, open innovation solutions such as Online Innovation Labs is the preferred weapon of choice to maintain participation, facilitate coordination, and streamline meaningful engagement between local and global networks of internal and external communities; some Planbox customers are crowdsourcing beyond their immediate networks by collaborating with their broader ecosystem of strategic partners, startups, academics, researchers and other stakeholders to make better and more informed decisions in response to this health risk, new trends, threats and opportunities as they arise amid this crisis.
"The urgency for innovation is just as important for the now as it is for the future," said Sara Husk, Chief Customer Officer of Planbox. "Innovation is more than just improving current business processes or offerings in response to a crisis. Collaborating and crowdsourcing on this scale and to this degree is also about proactively surveying a fluctuating market, and improving our ability to identify key focus areas and opportunities while simultaneously contributing to an ever-growing virtual treasure of knowledge that can be leveraged during and after the COVID-19 pandemic."
View Planbox's COVID-19 Business Threat Challenge Starters.
For the latest news, follow Planbox on LinkedIn, Twitter or Facebook.
Click here to view the official press release on Planbox.
About Planbox
Planbox's Agile Innovation Management Suite is a modular platform for full lifecycle Innovation Portfolio Management, Emerging Tech Empowerment and Ecosystem Enablement. The AI engine mines your data for insights while your community collaborates to discover, develop and capitalize on the best strategically aligned ideas within your ecosystem of employees, customers, partners, academia and startups. Planbox accelerates business outcomes by pursuing breakthrough innovations, creating a sustainable continuous improvement program, building a framework for corporate venturing and actioning on consumer insights. Planbox is trusted by some of the world's most recognized brands, including Blue Cross, Cargill, Dow Chemical, Exxon Mobil, Honeywell, Novartis, Ontario Power Generation and Whirlpool.
Source: Planbox
Share:
---
Categories: Saas (Software as Service)
Tags: collaboration, corona, coronavirus, covid-19, crowdsourcing, employee engagement, innovation, innovation management, open innovation, remote work, technology, virus
---

Lucas Potasso-Justino
Content Marketing Specialist