Planbox Joins Innovation Leaders for 'Inspiring Innovation Success Amid the Global Health Pandemic' Webinar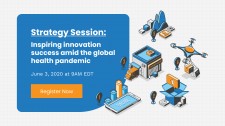 WILMINGTON, Del., June 2, 2020 (Newswire.com) - ​​​​Planbox, a pioneer in cloud-based AI-powered agile innovation management solutions, today announced that The Conference Board will be hosting a strategy session with Planbox and Hollister Incorporated on Inspiring Innovation Success Amid the Global Health Pandemic on June 3, 2020, at 9 a.m. EDT/3 p.m. CET.
Paul Fletter, Innovation Manager of Hollister Incorporated, will share how the multinational healthcare products manufacturer and services provider is quickly solving challenges, avoiding supply chain disruption and extending its market value while also contributing to the healthcare community and global fight against the pandemic by leveraging the Planbox platform. Below are some of the key takeaways from this strategy session:
The exemplary role of an innovator during these challenging times with case studies
Critical skills innovators can and should apply during the pandemic period
Tips for a successful innovation challenge program
Many Planbox customers are currently using customer-driven and insight-gathering frameworks, structured problem-solving and focused collaboration to fight back against COVID-19. Further supporting these efforts are Planbox's Challenge Focus Topics, which are based on customer requirements designed to help clients make better and more informed decisions in response to health risks, new trends, threats and opportunities as they arise in real time.
"Planbox is the platform of choice for innovators. We are partnering with the most technologically advanced and creative companies who we believe will not only weather the storm but will continue to thrive in this environment with their ability to think beyond the curve. Companies are increasingly recognizing the importance of digital transformation not only to survive during these uncertain times but also for long-term success — and having the agility will only make them more relevant in the long term," said Arthur Liberian, Senior Innovation Advisor at Planbox.
Please visit The Conference Board to register for this strategy session.
Click here to view the official press release on Planbox.
About Planbox
Planbox is the pioneering cloud-based AI-powered agile innovation management platform trusted by some of the world's most recognized brands, including Blue Cross, Cargill, Caterpillar, Dow Chemical, Exxon Mobil, Honeywell, John Deere, Novartis, Ontario Power Generation, Sun Life Financial, Whirlpool and Verizon, with millions of internal and external users. By leveraging a single system of record for innovation, its clients have built an agile innovation management capability that allows companies to innovate consistently and experiment cost-effectively within its ecosystem of employees, customers, strategic partners, universities, virtual networks of R&D problem solvers, entrepreneurs and startups. Planbox's Agile Innovation Management Suite is a modular platform for full lifecycle Innovation Portfolio Management, Emerging Tech Empowerment and Ecosystem Enablement. The AI engine mines your data for insights while your community collaborates to discover, develop and capitalize on the best strategically aligned ideas within your ecosystem of employees, customers, partners, academia and startups. Planbox accelerates business outcomes by pursuing breakthrough innovations, creating a sustainable continuous improvement program, building a framework for corporate venturing and actioning on consumer insights.
For more information, please visit www.planbox.com and join the conversation on Facebook, LinkedIn and Twitter.
Contact Information​
​Lucas Potasso-Justino
+1 (855) 752-6269 ext 608
lucas.potasso@planbox.com
Source: Planbox
Share:
---
Categories: Business News
Tags: Business News, Hollister Incorporated, Innovation, Innovation Management, Leadership, Planbox, Strategy, The Conference Board, Webinar
---

Lucas Potasso-Justino
Content Marketing Specialist