Webinar Introduction to ISO 56000 International Standards for Innovation Management
Presented by Innov8rs at the Virtual Innovation Summit, the webinar is the first of its kind as Planbox highlights key insights from the newly developed ISO 56000 series of International Standards on Innovation Management
Event
-
updated: Dec 4, 2019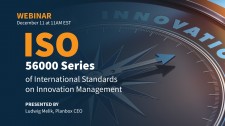 The webinar is geared toward executives and managers seeking sustained success and funding for their organization's innovation activities and capabilities. Key insights audiences will gather from this webinar include:
the overall structure and guiding principles of ISO 56000;
what to look for in the ISO 56000 Standard series and how your organization can benefit by applying these guidelines;
how to develop, nurture, strengthen and operationalize innovation management as a core competency within your organization.
Click here to view the official press release on Planbox.
Click here to register for the webinar at the Virtual Innovation Summit, presented by Innov8rs.
Click here to access the ISO 56000 series of International Standards on Innovation Management.
To view the press release on Newswire, click here.
---
Event Details
Starts: 11th December 2019 11:00 AM
Ends: 11th December 2019 12:00 PM
Price: Free
Type: Webinar
---
Tags: agile, business, continuous improvement, innov8rs, innovation, innovation management, international standards, ISO, ISO 56000, ISO 9000, software, technology
---

Lucas Potasso-Justino
Content Marketing Specialist, Planbox