Planbox to Host Master Class Webinar on Uncovering Breakthrough Innovations Using Insights
Planbox is hosting a master class webinar titled "How to Uncover Breakthrough Innovation Using Insights" on November 6, 2019. Presented by Innovation Leader, the webinar will be hosted by Planbox CEO Ludwig Melik, and Planbox CCO Sara Husk.
Event
-
updated: Nov 5, 2019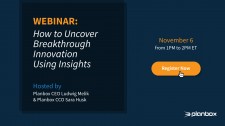 Ludwig will share his problem discovery methodology, based on his recent award nominated article  by Business Innovation Brief, titled "Inverse the Six Ws for Problem Discovery". This problem solving technique is intended to safeguard the ongoing growth and success of an organization, and does so by establishing a framework through which problems that are otherwise inapparent or seemingly unsolvable can be uncovered, tackled and dealt with in a timely and efficient manner.
The insights from this article lead the broader discussion, which includes additional problem solving techniques for pinpointing and exploiting business opportunities, such as:
how to make sense of weak signals through a structured process of exploration, expansion, and exploitation to unearth new opportunities;
how to align future trends analysis, tech scouting, and start-up evaluation with your corporate objectives to find the right focus areas;
how to establish a discipline of investigative curiosity, and how to develop a foresight process.
Using the Six Ws to ask questions at every stage of the problem discovery process uncovers many new insights for identifying problems and creating solutions. "Do like Sherlock Holmes would do, and question, question, question! True innovators question if they're even actually solving the right problem," stated Ludwig.
To register for the webinar on November 6 from 1:00pm to 2:00pm ET, click here.
For all the latest news and updates, follow Planbox on LinkedIn, Twitter or Facebook.
---