Planbox Looks to Empower EU Organisations in 5 Ways to Build Innovation Muscle Webinar
Planbox is hosting an empowering webinar for European organisations November 12, 2019, titled 5 Ways to Build Innovation Muscle. The webcast will be presented by Nathan Jacob, Planbox Senior Innovation Adviser, and Liam Snape, Planbox Senior Solution Consultant.
Event
-
updated: Nov 5, 2019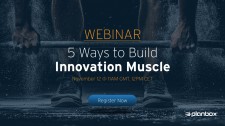 The session is designed to help organisations operating primarily within the European sector strengthen their innovation maturity model and competency level by adopting a tried-and-true framework through which they can successfully build long-lasting innovation muscle. The key topics covered in this session include:
what to know about the innovation maturity model and its different levels;
how to measure an organisation's innovation management competency in 15 minutes; 
5 ways to build innovation muscle.
Nathan and Liam will explore the importance of understanding the innovation maturity model and competency level of an organisation, and examine how to effectively leverage these assets to develop a system of record for innovation that centralizes, systematizes, and manages company-wide innovation activities and fosters a culture of continuous improvement.
Click here to register for the webinar on November 12 at 11AM GMT/12PM CET.
To view Planbox's listing on the UK Government's Digital Marketplace, click here.
Read: Planbox Awarded UK Government's G-Cloud 11 Certification.
For all the latest news and updates, follow Planbox on LinkedIn, Twitter or Facebook.
---
Event Details
Starts: 12th November 2019 6:00 AM
Ends: 12th November 2019 7:00 AM
Price: Free
Type: Webinar
---
Tags: agile, business, company culture, continuous improvement culture, digital transformation, europe, innovation, innovation culture, innovation management, innovation strategy, UK
---

Lucas Potasso-Justino
Content Marketing Specialist, Planbox