Planbox Imagine
Planbox will host its annual Planbox Imagine user conference at the Ocean B Resort in Fort Lauderdale, Florida, September 17-19, 2019.
Event
-
updated: Aug 8, 2019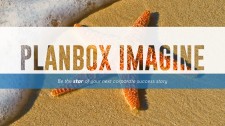 The three-day event serves as a gathering for Planbox team members and users to share inspirational innovation success stories. Members will have the opportunity to network, share advice, learn best practices, and discover how fellow Planbox practitioners are getting the most out of their Agile Innovation experiences. 
The conference is open to executives, managers, administrators and strategists seeking advice, inspiration and networking opportunities to learn more about the latest innovation management trends, best practices and technologies.
To view the official press release, click here.
To register for the event, or for more details about programming, pricing and guest speakers, click here.
---