Planbox CEO to Speak on the 7 Habits of Highly Innovative Organizations at PMI Global Conference 2019
Planbox CEO Ludwig Melik will speak on The 7 Habits of Highly Innovative Organizations with co-speaker Lynne Hayes, Senior Project Manager at Bon Secours Mercy Health.
Event
-
updated: Sep 26, 2019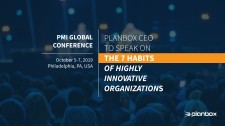 PMI is celebrating its 50th anniversary this year. As part of the company's anniversary celebration, the global PMI Global Conference 2019 will be highlighting modern marvels made possible by project management professionals. The event will feature live TED talks, educational seminars, networking events, and the annual Awards Gala and dinner. The exhibit hall will be a central hub for this year's event, and it will feature enrichment zones such as the audio zone, career zone, knowledge zone, learning zone, product zone, and wellness zone.
Ludwig and Lynne will be speaking during the "Hot Topics" educational session on "The 7 Habits of Highly Innovative Organizations" on Saturday October 5, 2019 from 11:30am-12:30pm EST in venue #314. Digital transformations are putting pressure on companies to innovate smarter and faster—a challenge that the guest speaking duo will address by exploring  the necessary qualities that organizations should integrate to combat this. At the end of this session, attendees will have an understanding of the following topics:
How to develop innovation management as a core competency;
How to operationalize innovation management in their company.

"We're incredibly excited to be a part of PMI's 50th Anniversary Celebration, and even more so to be guest speakers at the PMI Global Conference 2019," said Ludwig. "Lynne is a phenomenal individual with a noteworthy background in innovation management, and together we will explore the many ways in which attendees can operationalize innovation management by making it a core competency within their respective organization. Our goal is to provide them with a framework through which they can align their future projects with their company strategies, giving them a much better understanding of what they're getting themselves into before they get into it."
Watch Ludwig announce his attendance.
To register for the PMI Global Conference 2019, click here.
To view Planbox's infographic on the 7 Habits of Highly Innovative Organizations, click here.
For all the latest news and updates, follow Planbox on LinkedIn, Twitter or Facebook.
---
Event Details
Place: Pennsylvania Convention Center (Broad Street Entrance) 119 North Broad Street Philadelphia, Pennsylvania 19107
Date: 5th October 2019
Price: Free
Type: Conference
---
Tags: agile, AI, business, conference, innovation, innovation management, software, tech, technology
---

Lucas Potasso-Justino
Content Marketing Specialist, Planbox