Driving Collaboration to Sustainable Innovation Webinar
Planbox will host a webinar on Driving Collaboration to Sustainable Innovation with guest speaker Wayne Kurtzman, IDC Collaboration and Social Media Research Director.
Event
-
updated: Aug 19, 2019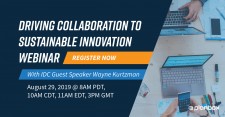 "Collaboration is not just technical. It's the cultural willingness to share and win as a team using the right technologies and the assumption everyone can add value." — Wayne Kurtzman
Join Wayne as he reveals key insights from his recent research on the importance of collaboration, and discover how you can drive sustainable results through teamwork within your organization.
The webinar is open to executives, managers, administrators and strategists looking to discover and integrate best practices for leveraging their organizations' innovation capabilities by developing a collaborative and empowered agile work culture through technology.
To register for the webinar, click here.​
To view the official press release and more details about the webinar, click here.
---